A Waterloo Primer
With only a week to go on the Kickstarter, and less than a month before Timepiece is due to be released, I thought it might be helpful to offer a primer of what (everyone thinks) happened on the field of Waterloo, so you can have it firmly in mind when Timepiece tells you what really happened. 😉
The 200th anniversary of this battle was celebrated a year and a half ago, on the very field where the original conflict occurred, in a grand re-enactment event involving something like 8,000 people (participants and audience) from all over the world.
(Re-enactors hold an event there every 5 years, as it happens; it draws 500 people on average. The town of Waterloo was not quite prepared for us. Though they did try very hard.) The following little piece of photojournalism is made possible by my husband, the brilliant photographer Richard Jackson.
Here is a view of the battlefield from the French lines – Napoleon's perspective – before anything took place there.
Here is Britain's view of the situation – admittedly biased, and a simplification of something more complicated, but a striking image – the Eagle overshadowing the whole world, gripping the globe in bloodstained talons.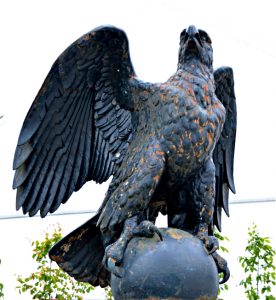 The participants ride (or wade) into a field of rye.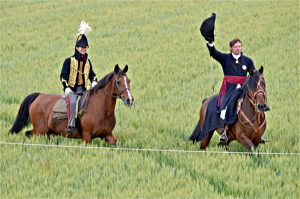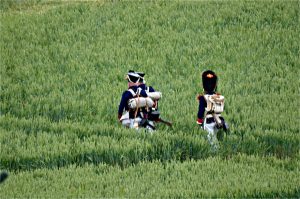 The British are significantly outnumbered. If they can join with the Prussians, all will be well, but the Prussians have not yet arrived.
The battle is engaged.
You can feel every blast of the cannon vibrate in your sternum. Gunsmoke hangs so heavily over the battlefield that you can hardly see.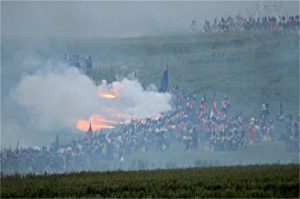 The British hold all day.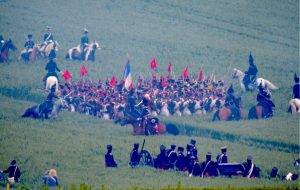 Here is the farm called La Haye Saint. It is about to fall to French hands, which will leave a gap in the British line.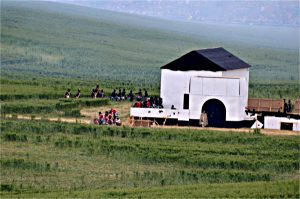 And the Prussians are still nowhere to be seen.
In the real world, they arrived in time to join with Wellington and win the day.
But what if they hadn't?
What other desperate methods might have been employed?
Especially in a world where monsters are real?
—
Timepiece is available for pre-order here.